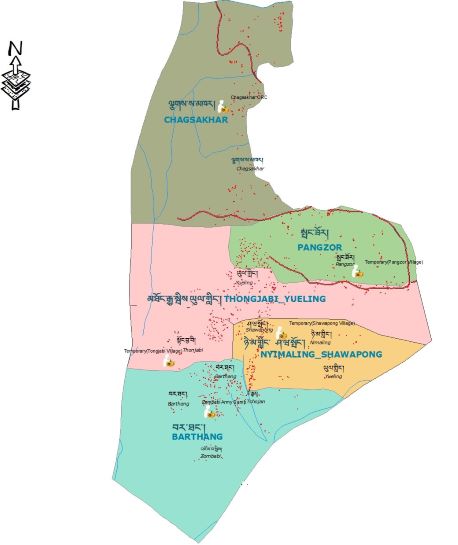 Chuzanggang Gewog has the total land area of 57.6 Sq. Km, situated at an alleviation of 258 meters above the sea level. Gewog shares border with Gelephu Town in the west, Sershong Gewog in the North, Umling gewog in the East and South-East and international boundary with Indian State of Assam in the South. Gewog is separated by Maukhola from Gelephu town in the west and Taklai River from Umling Gewog towards east and south east, while narrow path running between India and Bhutan demarcates the boundary between India & Bhutan in the south-west of the Gewog. Chuzanggang Gewog is one among the seven Gewogs which falls under the administrative jurisdiction of Dungkhag Administration, Gelephu. Roughly, Gewog Centre is situated about 27 Km from Dungkhag Administration and about 60 Km from Dzongkhag Administration.
Gewog is physically located on the plains of the southern foothills, which experience extreme climatic conditions of hot summer with heavy rainfall along with thunder and Lightning followed by long and dry winter. Due to its climate conditions during summer, only paddy ginger, maize and few selected vegetables which can withstand harsh climatic conditions are grown. The Gewog has 483 total registered households with total population of 2,426, among which 1,227 are male while 1,199 are female .  About 40% of the total area is under forest cover, while rest of the area consist of wet and dry land. Gewog has registered dryland of 1364.61 acres dedicated to plantation of Betel nut, ginger, maize, and vegetables and 1022.11 acres of wetland dedicated to growing varieties of paddy. 
The Gewog has 100% coverage of both B-mobile and T-Cell network and all households have access to electricity. Gewog Centre is connected by GC road from Gelephu-Trongsa Highway at Sershong Checkpoint. All the chiwogs have now access to Farm Roads.