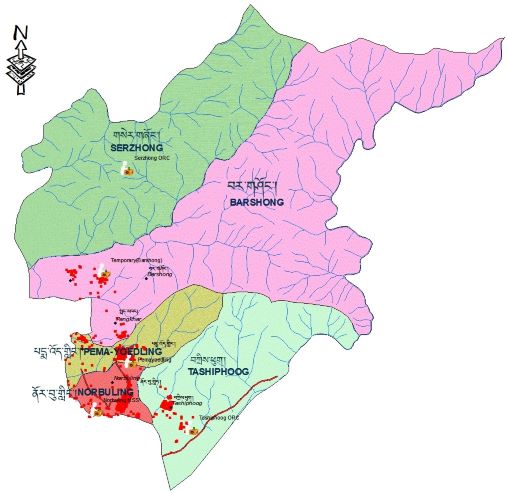 Serzhong Gewog is situated at an alleviation ranging from 280-650 meters above the sea level. Gewog covers a geographic area of 78 Sq. Km bordered by Gelephu Town in the west, Jigmecholing Gewog in North, Umling gewog in the East and Chuzanggang Gewog in the south. Gewog Centre is established at Norbuling, roughly about 24 Km from Dungkhag Administration and about 57 Km from Dzongkhag Administration. Gewog experiences warm sub-tropical climatic conditions of hot summer with heavy rainfall along with thunder and Lightning followed by long and dry winter. Due to its climate conditions during summer, only paddy ginger, maize and few selected vegetables, which can withstand harsh climatic conditions are grown.
The Gewog has 394 total registered households with total population of 2,045, among, which 1,029 are male while 1,016 are female . Gewog is administratively divided into five chiwogs viz., Tashiphu, Barshong, Pemayoeling, Norbuling and Serzhong Chiwog consisting of 7 villages. About 86.6 % of the total area is under forest cover, while rest of the area consist of wet and dry land. Gewog has registered dryland of 1128.34 acres dedicated to plantation of Betel nut, ginger, maize, and vegetables and 403.18 acres of wetland dedicated to growing varieties of paddy. 759.93 acres of orange orchard and 44.51 acres of Cardamom orchard . The people of the gewog depends on agriculture as the primary occupation while few rear livestock and run small shops as secondary occupation to sustain their livelihood.
The main source of income is earned from sale of orange, beetle nut, Dal & ginger. Gewog has one Central School established at Norbuling commencing from July 2015. The school provides education to the children of both within and outside the Gewog ranging from Class PP-X. The children coming from outside the Gewog includes students of feeder schools viz., Jigmecholing LSS, Chuzargang APS, Umling LSS and Tareythang joining after completion of Class VI & VIII. The Sershong Primary School covers the catchment area of Barshong & Sershong chiwog besides, children of officials working for Sershong Checkpoint. Gewog has one RNR-EC established at Norbuling in 2012 providing Agriculture, Forestry and Livestock Extension Services and one BHU II established at Norbuling, catering primary health care services to the people of the Gewog as well as Chaskhar Chiwog and upper Dawathang of Chuzanggang Gewog.