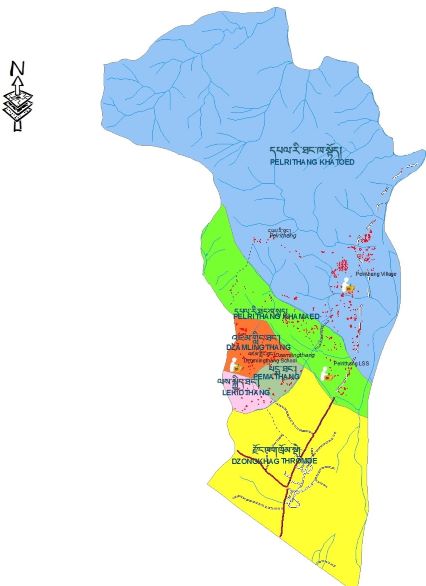 Gelephu gewog also known as Hatisar in the olden days, which meant elephants residing in the area, back then the area of the gewog was very vast which included the recently formed Gelephu thromde, but now it has been reduced to just 54 sq. Km, with 79.8% of forest coverage. As of now Gelephu gewog is formed of five chiwogs namely Pelrithang Khatoey, Pelrithang Khamey, Zomlithang, Pemathang, Lekithang, with a total population of 2373 approximately and 423 numbers of houses.
The gewog is bordered by Churzagang and Sershong gewog in the east, Samteling gewog in the west, Jigmecholing and Chudzom gewog in the North and Assam state of India in the South. The gewog experiences sub-tropical climatic condition having warm and dry winter, wet and hot summer. The minimum rainfall ranges from 1500-3500 mm per annum and the temperature ranges from 16-30 degree. The altitude above sea level is 200-800 masl. The people of the gewog mainly depend upon agricultural farming, rearing of livestock and daily wages for their sustenance. The main staple food crop being rice followed by maize and cultivation of millet, the cash crop are areca nut and ginger.
The gewog, going along with the development trend of the country, have also lost much of the pristine forest, agriculture land to the construction of Roads, buildings, electricity towers etc... So the most concern/problem/threats of the gewog are the drying up of water sources as much of deforestation took place nearby the sources ultimately leading to insufficient drinking water, though the status have shown 100% water coverage there is still the question of sufficiency. The other problem is the seasonal shaiteykhari stream, DawlaKhola,Jogichhu and the mawkhola, which leads to massive degradation of land and blockage of the highways.