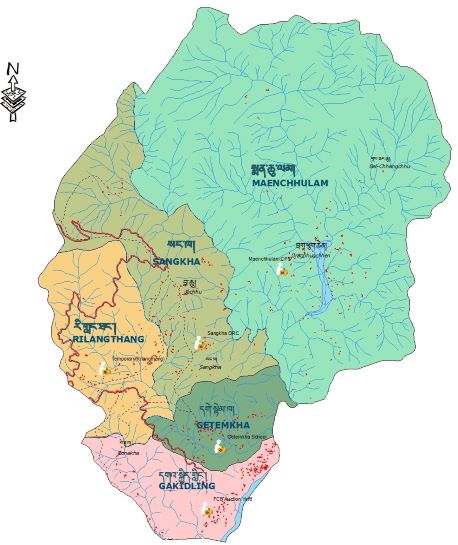 Gakidling Gewog is located towards the west of Dzongkhag and it is connected to other Gewog and Dzongkhag by the National Highway. The Gewog consist of 5 chiwogs with the total of 23 villages. The Gewog has a population of about 3338 consisting of 532 household covering an area of approximately 785 sq km. The total resettler settled in Gakiling Gewog is about 34 (Tharm holders). The resettle's are settled phase wise (5th, 6th.7th and 8th).
The Gewog Administration has 17 staffs inclusive of elected personnel such as Gup, Mangmi, 5 Tshogpas, Gewog Adm. Officer, 3 RNR Extensions, Health assistance, Plumbing Technician, Site Engineer, Gewog accountant, Gewog clerk (Gedrung) and care takers (RNR & Gewog office).
Farmers cultivate mainly Paddy, Maize, Ginger, Areca nut, Millet, Vegetables, Oranges and they rear livestock like cattle, pigs, chicken and goats. The nature of the soil in Gakiling Gewog is very much suitable for rice and maize cultivation and the climatic condition is fit for cultivating rice and maize twice in a year. The Oranges and areca nut are also grown as main cash crops.
The farmers under Gakiling Gewog are one of the hardest working farmers; who values farming as their main financial source. The landscapes are a mosaic of small fields with scattered Orange orchards. Intensive vegetable production is practiced on most fields, including Tomatoes, Cabbage, Onions, Beans and Mix Vegetables. Diversification of agriculture production is important to the farmers under Gakiling Gewog because there can be many source of both income and production.
In Gakiling Gewog most of Chiwogs depends on fruits and vegetables production. It is one way in which agriculture can be diversified and it is one component of crop production that can contribute to food security of that area.  Under Gakiling Gewog the farmers' participation and cooperation is well maintained, farmer's group mobilizations are well encouraged in vegetable production, livestock and forestry production.