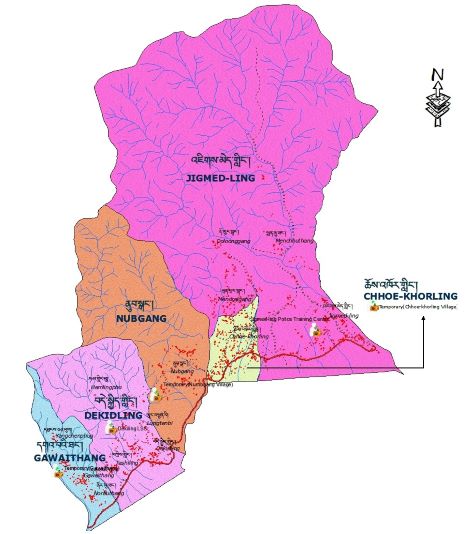 Dekiling Gewog covers an area of about 115.21 square kilometers with a total arable land of 2486 acres. Only about 8.7% of the arable land is under cultivation at present. The forest coverage of the Geog is about 88% of the total geographical area (LUPP Data).
The gewog has cool winter months and hot and humid summer months with heavy precipitation especially during the months of July, August and September.
It is located towards west of Sarpang Dzongkhag and shares boundary with Shompangkha Gewog at the west, Dovan Gewog to the  north and Bhur Gewog to the east and India border to the south. The altitude of the gewog ranges from 230-815 meters above sea level. The gewog constitutes 14 villages with 5 Tshogpas, 613 households with 314 household settles as Zhisar (Resettlement) and population of    4561 (Drap'08)
The 18 km highway passing through the gewog from Kafley Khola to Bhur Khola helps the farmers in transportation. Suspension bridges located in the Gewog greatly help the farmers in moving to and fro especially during the monsoon season.